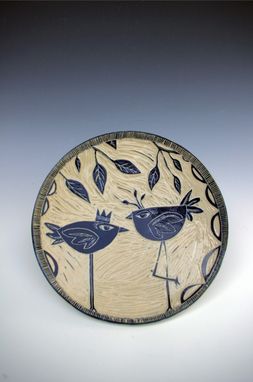 These little birds have danced in my head for over thirty years. Finally, in these ceramic collaborative projects with potter Steve Smith, they have found their personalities in white stoneware.

Each wall platter is constructed by Steve Smith and/or Rebecca then Rebecca begins the surface design process coating the plate in one of four colors of slip (warm black, espresso, cobalt or cherry red) then free hand carving the images into the surfaces using ribbon tools in the sgraffito technique.

The back of the platter has a copper wire allowing it to hang on the wall as an object d' art or place it on the table to serve. The piece is dishwasher and oven safe (though because of the copper wire is not microwave safe).

A series of these delightful platters would make a gorgeous display along a wall or down the center of a buffet.

Sizes available: 8", 10", 12", and 14"
Custom sizes available up to 20".
.............................

sgraf·fi·to/zgräˈfētō/ Noun: A form of decoration made by scratching a surface to a lower layer of a contrasting color, typically done in slip on clay.
Dimensions: 12" diameter x 2" depth as shown