Birdhouse & Feeder - Old Truckee Jail 1874-1964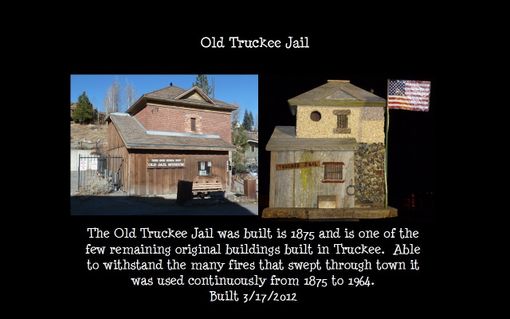 Item: Old Truckee Jail Birdhouse

Artist = Greg Zirbel
Creation Date = 3/17/2012
Dimensions = 17" wide, 13" deep, 20" tall
Weight = 14lbs
Signed and Dated = Old Truckee Jail By Greg Zirbel 3-17-2012
Shipping= Call for options.

Description:

The Old Truckee Jail was built is 1875 and is one of the few remaining original buildings built in Truckee. Able to withstand the many fires that swept through town it was used continuously from 1875 to 1964.

The two nesting boxes are built for Bluebirds, Violet-Green & Tree Swallows and House Sparrows, using a 1 1/2" hole. Hang 5' to 10' above the ground for best results. This house hangs easily by one nail on a fence, tree or wherever. Redwood is the preferred wood by birds to nest in as it has its own natural insecticides built right in.

The feeder feeds about a gallon of seed right out by the front door. The roof lifts straight off to easily fill the feeder and clean out the nesting boxes.

Historical tidbit, the square nail used as the door knob was salvaged from the 16" wide fence board that is used for the base. There is one other nail still in the board. The white washed lumber has ties back to Luther Burbank's Sebastopol farms that date back to 1875.
Dimensions: 17" wide, 13" deep, 20" tall