Birdhouse & Feeder - Zirbel's Gateway Bottle Shop Truckee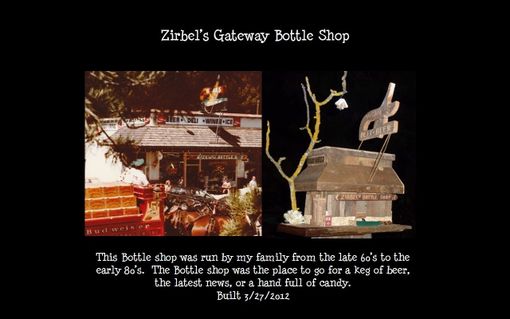 This Bottle shop was run by my family from the early 70's into the 80's. The Bottle shop was the place to go for a keg of beer, the latest news, or a hand full of candy.

The nesting box is built for the House & Bewick's Wren with a one 1" hole. With little modification of the hole to 1 1/8" makes it suitable for the Chickadee & Carolina Wren. Increase the hole to 1 1/4" and nest the Nuthatch, Titmouse, Downy Woodpecker, House Sparrow and others. Hang 6" to 15" for best results. This house hangs easily by one nail on a fence, tree or wherever.

The feeder feeds about a half gallon of seed out the front door. The roof lifts straight off to easily fill the feeder and clean out the nesting box.

Historical tidbit, the white washed redwood lumber used for the roof has ties back to Luther Burbank's Sebastopol farms that date back to 1875. And the square nail used as the door knob was salvaged from the Truckee area.

Dimensions: 17" wide, 10" deep, 12" tall