Birdhouse - Historic Titus Home 1910 Truckee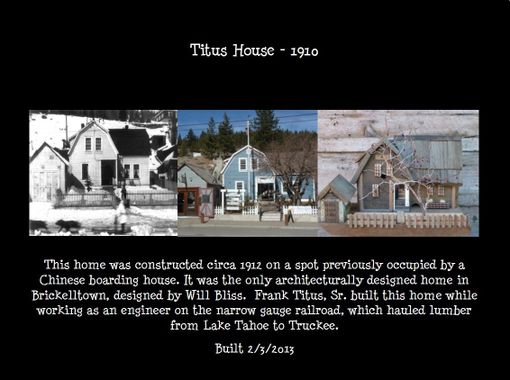 This home was constructed circa 1912 on a spot previously occupied by a Chinese boarding house. It was the only architecturally designed home in Brickelltown, designed by Will Bliss. Frank Titus, Sr. built this home while working as an engineer on the narrow gauge railroad, which hauled lumber from Lake Tahoe to Truckee.

The nesting box is built for the House & Bewick's Wren with a one 1" hole. With little modification of the hole to 1 1/8" makes it suitable for the Chickadee & Carolina Wren. Increase the hole to 1 1/4" and nest the Nuthatch, Titmouse, Downy Woodpecker, House Sparrow and others. Hang 6" to 15" for best results. Hangs easily by one nail on a fence, tree or wherever. The feeder feeds about a gallon of seed out the front. Garage roof revels a stash.

Historical tidbits; The square nail used as the door knob was salvaged from the oldest surviving farmhouse in Sonoma County, the Stone Farm house built in 1865 now houses the offices of the Laguna de Santa Rosa Foundation and open to the public. The siding lumber was salvaged in 2012 from the Montano homes located at 10167-75 West River Street Truckee CA. Roof shingles are from the Sebastopol area that dates back to Luther Burbank's barns from 1870's. The tin on the garage is the same tin that's now covers the garage itself with railroad tie end caps is used at the garage door. Apples from Specialty Beads in Truckee are delicious.

Dimensions: 24"wide, 12" deep, 15" tall