Birdseye Maple And Walnut Media Cabinet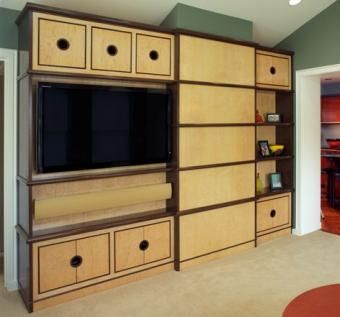 Drafted by a notable Madison-area designer, this innovative media wall is made of solid Walnut and Birdseye Maple veneer, and is finished in a high-gloss conversion varnish. The "portholes" in the doors take their cue from the Art-Deco theme in this home, and serve as the pulls for the doors hiding the ample storage areas. This unique set of cabinetry is also the focal point of a media room that was recently awarded a 2010 NARI Regional Award for an Interior Remodel. We were proud to be a part of this award-winning project.
Dimensions: Approx. 11 feet wide, 8 feet tall, and 21" deep.