Black Walnut Mirror Shelf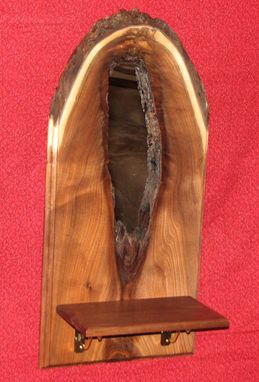 A customer we regularly work with likes to bring us raw wood that he has cut and aged himself. It's a nice bargain for us as he commissions us to do the work he wants done and he always gives us the scrap raw wood as well. This piece was fashioned from the end of a piece of rough sawn Black Walnut. The center and one edge at the top still had the bark on it. The lighter wood coloring at the outer rings is sap wood. The hole was naturally occurring where a limb formed a crotch in the tree. Jim kept visualizing it as a wall hanging with a mirror behind it. One day working together in the wood shop, I suggested putting on a shelf that might hold a candle to add to the reflection from the mirror. This is a authentic one-of-a-kind, original piece of Black Walnut grown, cut, and fashioned in Nebraska. Any nature or tree lover would find it a wonderful addition to their home.
Dimensions: 24" height, 11 1/2" wide, shelf is 10" wide X 5" deep. The brackets are brass plated. The mirror is attached to the back using additional black walnut strips screwed in, so that they can easily be removed for cleaning.