Black And White Serenity Panels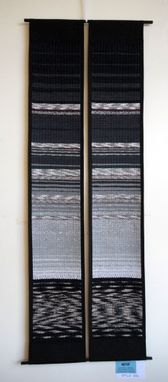 A highly useful decor element, Serenity Panels come in a variety of designs, shades and colors. These Black & White Serenity Panels are of the style called 'Slices of Linear Theme'. Another style, known as 'Slices of Landscape' can be seen also in this portfolio.

Hanging in pairs Serenity Panels can frame architectural elements such as doors, windows or archways, set off a mantle piece with chimney or fill narrow spaces to complete a room's decor. They can set off a mirror, flank a corner area or be used singly as meditation panels.

Dimensions: the panel pictured here, Black & White, is 9" by 72". A popular size is 12"x60" or 72", depending upon the design requirements. However the panels may be made smaller or larger upon request.