Stained Glass Panel With Vintageware "Blast From The Past''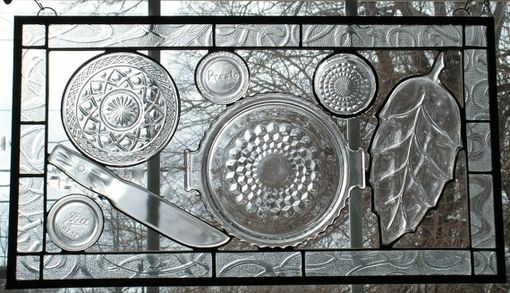 This clear stained glass panel features different types of vintage ware that were a staple in kitchens back in the day. It features a relish dish, a wire bale, and some canning lids. I can also create this with other materials, such as saucers, knives, medicine bottles, and coasters , all vintage! I am happy to send you photos of the items so you can choose which ones you want me to use for your panel. I also know the history for most of the items I use for panels. This includes manufacturing dates and the manufacturer.

The panel's frame is made of durable zinc. The pictures above show the panel in clear swirled glass, but I can also use glass in colors of your choice. Please note that all vintage pieces will be clear. The ideal measurement for the panel is 10 to 12 inches by 22 to 26 inches.