Blessing/Happiness, 2015 Winter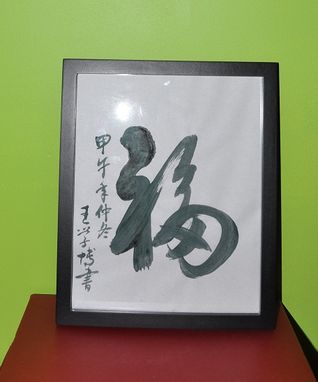 Chinese calligraphy- Blessing, including the beautiful wood frame of 8 in X 10 in. It can be placed on a table or hang on the wall.

This Character is pronounced "fu" in Chinese.The character "fu" is posted by virtually all Chinese people on the doors of their homes during the Spring Festival (closely associated with the Chinese New Years).One tradition from the Zhou Dynasty (beginning in 256 B.C.) holds that putting a fu symbol on your front door will keep the goddess of poverty away.This character literally means good fortune, prosperity, blessed, happiness, and fulfillment.