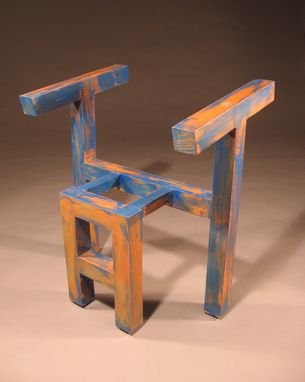 -2008

-poplar

-blue & orange enamle

This piece is one of my favorites, when i made this i was sharing studio space with my buddy and colleague Brad Triana who at that time was focusing on finishing techniques which influenced my worked, combined with my love of expressionist painting i created the "Blue Chair." The joinery is all mortise and tenon with a focus on bare bone structure as in the raw elements needed to facilitate what makes a chair exist. The colors are complimentary blue and orange on top of primer. I would paint some spots and let them dry and paint other spots then apply the compliment on top before the undercoat was completely dry.
Dimensions: 12" x 25" x 29"