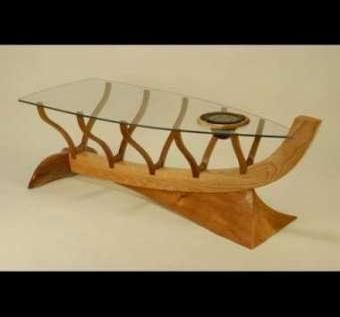 This boat table was inspired by my wooden boat building and restoration background. The compass is an authentic 19th century style point-type and is actually gimbaled into the tabletop, as it would be in the ship it was built to guide. The frames or ribs are of quarter-sawn white oak, the backbone is of black ash and the tail and fore foot are of butternut. The hull shape of the table was
lofted to my own design, but some to the influences of American yacht designers such as Nathaniel Herreshoff and John Alden are evident. The frames are sided and molded and the floor timbers have the appropriate limber holes. The rabbet line is also evident along the backbone. The hand carved whale's tail is a tribute to my years as a commercial fisherman in my early twenties as well as the thrill of seeing these leviathans of the deep while sailing the rugged coast of Maine today.

This table has been sold. I would be happy to build another one for you.
Dimensions: Approximately 4 feet long , 2.5 feet wide at the widest point, and 18 inches high.