Bowed Drop Front Computer Desk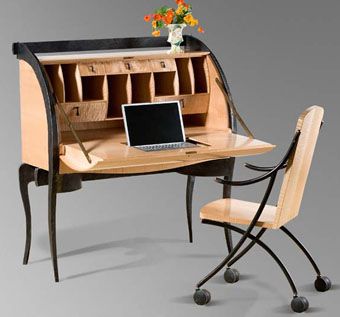 Having been born in an earlier age I feel computers (like Televisions) are useful but should not dominate our environment. This Desk was designed for laptop computers that rest in a cavity between the bowed front and the flat writing surface of the fold down front. The computer is velcroed in place and all wiring can be run through hollow hinges. A cover is provided to allow the owner to once again return to an earlier age. Provisions are incorporated to allow for different machines to be placed in the future. The interior is graced with 5 hand cut dovetail drawers and 8 pigeon holes. Additionally there is one large dovetail drawer in the front.

Curly Maple wood and Hand Forged Steel.

$23,000 as shown, Matching chair w/casters $1,500.
Dimensions: 4 1/2 ft L x 4 1/4 ft H x 2 ft D