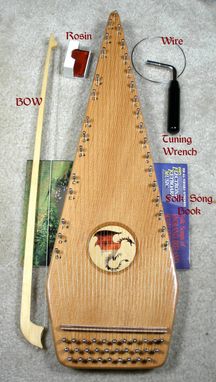 Bowed Psaltery (that's english for zither) might be the worlds easiest instrument to learn to play. Psalteries go back to biblical, were plucked and strummed. Playing one with a bow may go back to Medieval times.
Played with a violin Bow, one note at a time, moving from string to string like playing piano with one finger (if someone put letters on all the piano keys)! Each string is labeled and where the letter of the note is, that's where you put the bow to play that note.
So if you can read the alphabet, you can play a bowed psaltery. I sell these to Music Teachers who teach 6-year-olds because even they have never seen an easier instrument!
History: This instrument first appears about 1000 years ago, and has been around ever since. But since you cannot play it really fast it's never been used in an orchestra.
Only 100 years ago instruments like this were being sold door-to-door but then Radio and Phonograghs became affordable.

The SOUND HOLE is scroll cut, so I offer you a choice of either a Dragon, a Unicorn, a Rose, a Triskelion, or a Celtic Cross. See my DoorHarps for pictures of the designs.
Dimensions: 22 inches long, 6-1/2" wide, 1-1/4 inches deep not counting the pins that stick up another inch.