Braced Comb Back Windsor Chair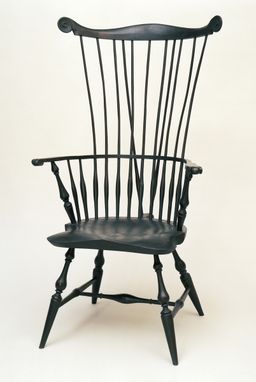 The legs, stretchers and arm posts on this graceful chair were turned from maple, still green and wet. The spindles, arm, and crest rail were all riven from oak, still green, and then shaped using draw knife and spoke shave. The arm and crest rail were bent after steaming the wood to increase its flexibility. These are time honored construction techniques for windsor chairs, and result in chairs that are strong and lightweight with joinery that is tight and robust.
It takes longer to fashion a chair like this as opposed to working with dry materials or using a copy lathe to fabricate the turnings. The hand carved volutes and knuckles on the arm are subtle details that speak to the craftsmanship. The braced back, with two additional spindles is not often seen in modern reproductions, but stiffens the back slightly, adding to the comfort. .
The finish is a classic black over red milk paint, topped with oil and wax. The black has a soft luster with hints of the red showing through in all the right places.
The chair shown in the picture is not available but I will custom make a similar chair for you, or work with you to design a one of a kind heirloom.
All of our products are handmade
by expert makers.