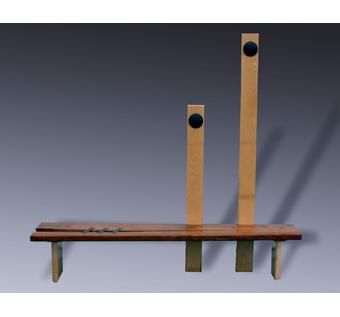 At gallery and museum opening, drinking pinot noir out of plastic glasses and gnoshing olive tapanade on toast points, everybody mills about, burdened with the weight of proper comportment. Oddly enough, the artist has the easiest time of it, for while people may expect great things of the art, they expect less of the artist.

A elderly, genial man bent over studying intently this piece, the crack stitched together with the one inch square ties, finally straightened up and lookat at me square. "Sure must have ticked you off when that wood split so."

It's possible he missed the point. It's possible that the reason we respond to wood is because it is unpredictable, it is 'flawed' and varying and capricious. It's possible that beauty comes not from perfection, but from honesty and balance. It's possible that balance and symmetry are not necessarily the same thing. It's possible that if this piece were not 'broken', it wouldn't merit a second glance.

It's possible too that wrong things are more interesting than right things, such as six inch circular headrests made of cushioned, black leather, placed higher than anybody's head would ever be. It's possible too that this is not the case.

He didn't buy it.

At openings the artists don't even have to dress nicely if they don't want to.
Dimensions: 7'W x 14"D x 70H