Bronze Standing Lamp With Base Light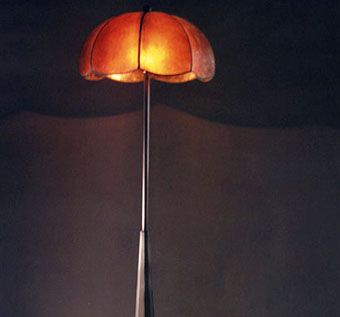 Limited Edition

Designed as a reading lamp, the body of the lamp is fabricated silicon-bronze, with all wiring enclosed and easily accessible for maintenance or repair. It's wired for standard-base bulbs (120w), with a 3-stage touch dimmer.

In the fabrication process, bronze sheet and pipe components are tig-welded, chased and finished with seamless joints.

The standard patina (pictured) is an oil-rubbed antique brown. Other patinas are available through discussion with the artist.

The shade is fabricated with leaded seams. The mica pictured is an amber-hue mica. The lighting element in the base is also shaded with slumped amber mica.

We have designed the lamp with classical lines and proportions, sympathetic to many different decorative styles and themes.

Shown here with Octagonal Slumped Amber Mica Shade

Please call or email us for pricing.
Dimensions: Height: 63" Base: Octagonal, 14" point-to-point Diameter of shade: 18.5"