Bronze Table Lamp, Cast Glass Shade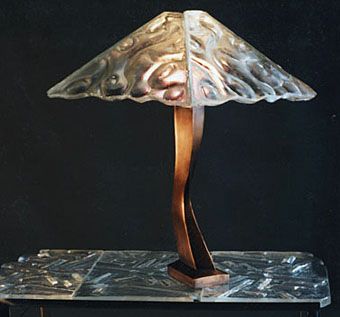 Limited edition

The body of the lamp is a flowing, geometric form of fabricated silicon-bronze, with all wiring enclosed and easily accessible for maintenance or repair. It is wired for standard-base bulbs (120w), with a 3-stage touch dimmer.

In the fabrication process, bronze sheet components are tig-welded, chased and finished with seamless joints.

The standard patina (pictured) is an oil-rubbed antique brown. Other patinas are available through discussion with the artist.

The shade is cast glass with a pattern reminiscent of "Starry Night." Other cast glass designs are available and in development.

Please call or email us for pricing.
Dimensions: Height: 24" Base: 5.5" x 3.5" Shade: 17" x 17" x 8"