Brothers Grimm Monica Evil Queen Reproduction Costume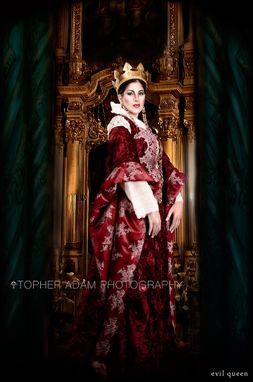 This costume is inspired by the Brothers Grimm movie and was one of our favorite to do. We modified the design from the movie to be functional for walking around in as the original had a huge train that just wasn't practical.

The dress itself is made as one piece with the illusion of more than one. The body of the dress and parts of sleeves have a burgundy crushed velvet. This can also be done in red if you prefer which is closer to the movie color. The sleeves are lined with an embellished burgundy mesh. A giant embroidered applique covers the front and it laces up on top of the chemise. The sleeve has beadwork at the shoulder. The sleeves were rolled up on the second picture to show the lining and the chemise sleeve underneath but it drapes to cover the sleeve of the chemise. The dress falls at floor length with no train.

The chemise is out of a ribbed cotton and is actually sewn to the dress. The chemise underneath only goes about waist length. It has a interfaced collar with lace trim at the neck.

The crown is made of hand painted cellulose and embellished with gold filagree pieces. It is then attached to a burgundy satin covered headband with combs to set in the hair.

Earrings are made at a startling foot long integrating gold and burgundy pieces and beads. They take a good many hours to assemble just by themselves but complete the outfit.

All other shown accessories and the girl's costume are sold separately. Made to order in any size.

All of our products are handmade
by expert makers.