Buffalo Rawhide Tipi Lamp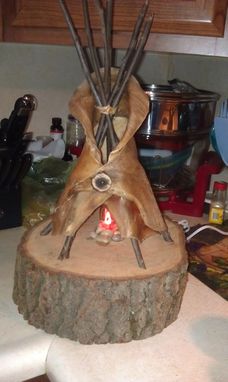 This lamp is not for sale, but, is being offered as a representation of my work. It was made of buffalo rawhide and mounted on a piece of a red oak log. It was fitted with a candleabra socket and cord assembly which had a roll switch for convenience of use. Stones were mounted around the socket and a flickering bulb was installed to simulate a fire in the fire pit.
This lamp can and has been reproduced using various pieces of rawhide and canvas as well. Price will vary with choice of materials and availability, etc. Canvas would be less that listed.
Dimensions: Lamp is approximately 18 inches in height and 9 1/2 inches in diameter.