Butcher Block Top Kitchen Table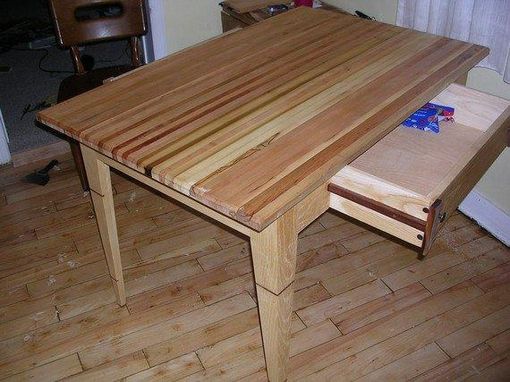 This custom built table is designed to be the centerpiece in any Foodie's kitchen.

Constructed from reclaimed maple, ash, and walnut, this table is 100% hardwood and guaranteed to become a family heirloom.

The table top is designed to be one giant butcher block/work surface, made from 1'' thick maple. The base is solid ash with walnut accents.

The table also offers two deep drawers on either side. Each drawer features walnut accents and antique hardware.

Item comes with a Custom Era provenance, made from the same woods as the table itself (Picture 5). The provenance tells the story of how artisan Giuseppe Izzo designed and built this unique piece of furniture, as well as how to best care for your purchase.
Dimensions: Table:
30 1/2'' Wide X 47 1/2'' Long X 30 3/4'' Tall


Drawers:
12'' Wide X 23'' Long X 4 1/2'' Deep