Butterfly Initial Pendant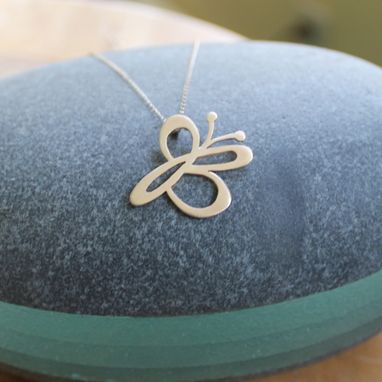 14K gold pendant from client's design based on meaningful initials.
All of our products are handmade
by expert makers.
Alisa S.'s review

• Apr 22nd 2018

Laura did a fantastic job! My original proposal was not quite feasible but Laura was upfront with me about its limitations and worked with me to come up with a better design. While she was making the piece she provided updates WITH pictures so I could see how it was coming along. It was completed in well under the original budget and time I expected. Also, it was shipped priority in a lovely box. My daughter loves her gift and immediately started taking pictures and passing on Laura's contact information to her friends. Definitely A++ work and customer service!

Jacob's review

• Nov 16th 2013

I came into this project not entirely sure what I was going to come out with. I had an idea, and an image I drew to go with it, but I was asking for what I thought to be a very detailed image to be crafted onto a very small space. I was set on the idea that I would have to sacrifice a lot of the detail in the design which was very personal to me, but now holding the finished product in my hand I am beyond amazed at how close it is to what I had imagined it to be. Laura Friedman gave me a product that I will proudly wear for years to come, a wonderfully crafted necklace based on my own ideals and aesthetics. I will never regret choosing her to craft my product and if I ever am in need of another custom made piece of jewelry she will be the first I contact.