Butterfly, Metamorphasis Necklace With Copper, 14k Gold, And Aquamarine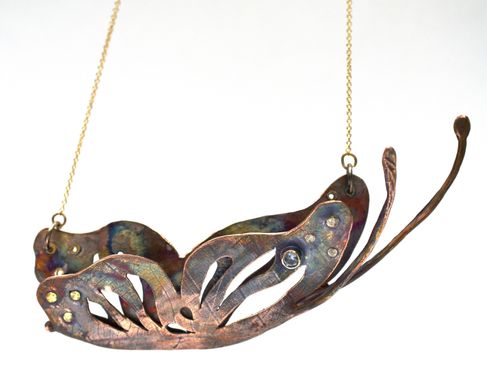 This butterfly features 14k gold settings, decorative rivets, chain and handmade 2-hook clasp, and a gorgeous aquamarine faceted gemstone. The butterfly is handforged, pierced and sawed and features a vein-like print on the surface.

I loved creating this piece for my client, who works therapeutically with people transforming their lives through facing creative and personal blockages. She asked me to create a piece involving a butterfly and this is what I came up with.

When I make this wearable art jewelry for a client- I consider it a collaboration and work to really get what people are drawn to and interested in. I end up feeling like a channel- and it seems that what ends up getting created comes through me and is able to reach the visions and desires of my client, both physically and spiritually. It is my deep pleasure to work in these kinds of relationships.
All of our products are handmade
by expert makers.