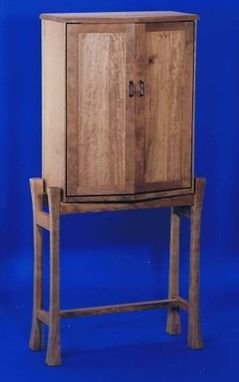 This prow front cabinet on a stand was created for a milestone anniversary gift. Both the detachable stand and the case are of figured American Black Cherry.

Concealed hinges hang both doors. The 2 door pulls are hand-carved here at Katahdin.

An adjustable shelf allows for a wide range of storage and display configurations.
Dimensions: The cabinet case is 36" high and 28" with. The depth ranges from 11" to 13".

The stand raises the cabinet 24" off the floor... bring the top of the cabinet to 60" high.