Calla Lily Hexagonal Stained Glass Window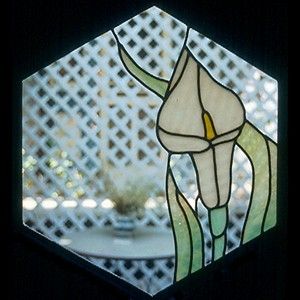 The interior designer for the circa-1900 house wondered what we could do with a six-sided window in a doorway on the landing of a stairwell to the basement. He wished to improve the looks of the stairway which leads from the main hall. The designer wanted an Art Deco theme and the owners asked us to maintain visibility to a lovely patio. Our solution is a leaded stained glass window featuring a Calla lily and incorporating white, green, and yellow opalescent glass with clear glass. Delicate color in the non-transparent glass draws any eye glancing into the stairway and the graceful design frames the outdoor view visible through the clear sections. This elegant window transforms a utilitarian space and makes a natural transition from house to garden.
Dimensions: about 12" x 14"