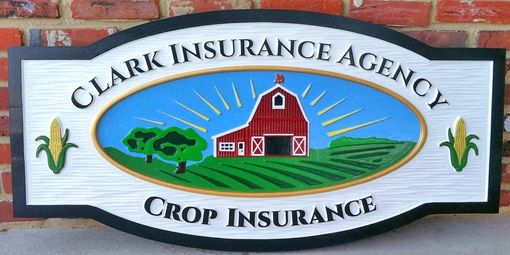 All customized....Choose your own colors, font and picture... Just email me what you would like along with your logo. Signs can be as large as 4' x 8'

Your sign is custom made so prices will vary depending on size and difficulty. Please email me your specifics.

I will send you computer generated artwork so you can see what the finished product will look like for approval. I can not always add color to the computer generated artwork, if not, you will see the sign in unfinished wood.

For example the sign pictured is approximately 4' x 2' single sided sign. Any more characters, design or added size to the sign will change the price. Any less would lower it.

Carving detail and painting is a big part of determining price of a sign.


Texture can be carved into the background to give it a weathered wood look. Hand painted.
There will be a groove carved in the back to hang from, but you can add hardware if needed.

Contact me to create a custom order for you. A good faith estimate is 3-5 weeks to have this shipped. It can often be sooner but depending on workload 5 weeks is the max. If you have a deadline, let me know and I will see what I can do to help you.