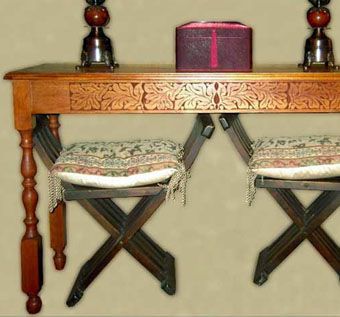 This carved table is made of butternut, a member of the walnut family. Butternut is a warm wood with an interesting grain that goes well with most decors. The top is very smooth to the touch and is hand rubbed with many coats of oil to bring out the luster of the wood. You will find that visitors want to touch the surface to see if it is as soft and smooth as it looks. There is a French word 'chatoyance' that can be translated into English as 'to shine like a cat's eye'. That describes the luster of this tabletop.

The carving is painstakingly done by hand. I believe that carving makes a piece of furniture really special. I can do any kind of design, but I have always liked florals. Flowers and vines have been used as themes for decorative carving since the early Egyptians. The Greeks and Romans made good use of acanthus, wheat and other leaves to decorate their furniture and their architecture. Medieval furniture utilized floral themes as well. Some periods featured realistic leaves and plants while others had highly stylized versions. If you show me a design you like, I can interpret it for you on the apron of your table either as incised or relief carving. The table shown in this picture was carved entirely with one knife.

The dimensions of this table are 48" L x 18" W x 30" H, but I can make any size you like. I can add a drawer or a bottom shelf as well.

There is a real satisfaction in owning something that was made especially for you by a skilled craftsman. When you compare the quality of my tables to those made in factories, you can't help but notice the difference. I hope that I can build one for you.
All of our products are handmade
by expert makers.