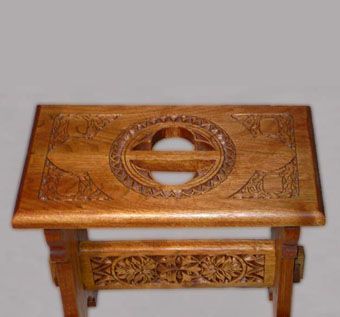 This stool is from a design by Wayne Barton that replicates a 15th Century European hearth stool. It is extensively carved with intricate designs typical of the period. The stool is made entirely of butternut, a member of the walnut family. The carved center trestle features through mortise and tenon joinery. The hole in the top can be used as a 'handle' to carry the stool around.

This stool is 18" H x 24" L. It is finished with many coats of oil to provide a deep, glossy finish that is very smooth to the touch. This is a really special piece...one that will draw comments from anyone who visits your home.
All of our products are handmade
by expert makers.