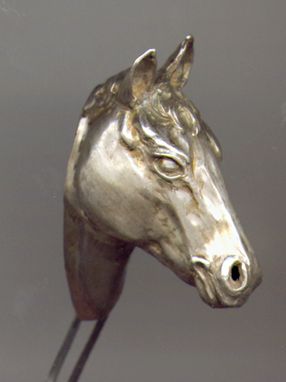 This casting was from the mold I made from a custom order for a client. Their customer had a racehorse that they wanted a pendant made in the likeness of, and so not only did I had to carve a realistic horse head, I had to carve a PORTRAIT of a particular horse!

Needless to say, an item like this required a huge amount of work, as I had only some photos and a portrait painting(!) of the horse to work from, and the customer reviewed it several times to have the carving modified to match what they felt was an accurate representation of the horse.

This casting is in silver, and I made it as a sample of my work as a wax carver - the final casting for the customer was in 18K gold, and had a fabricated harness and carved jockey hands holding the reins - not really my taste, but the customer was thrilled at the final result.

Total carving time for this was around 26 hours and the price listed is for the work to carve the wax. I don't remember what the final cost of the piece was, but it was upwards of $8500, back when gold was under $300!
All of our products are handmade
by expert makers.