Carved Panel Blanket Chest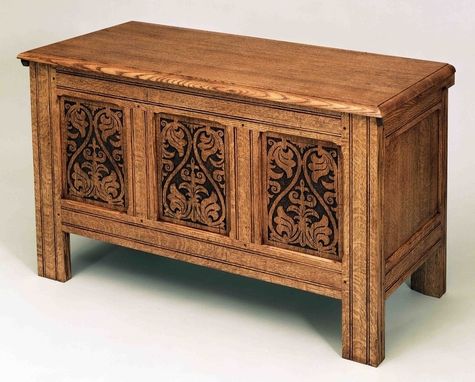 Carved panel blanket chest in quarter-sawn red oak with a solid aromatic cedar bottom. In a style commonly called Hadley although carved panel chests certainly predate those made in Hadley, Massachusetts and are found throughout Europe. The only major difference between the chests of the 1700s and this one is that this chest is made of sawn and dried oak rather than split, riven and green timber.

Panels are carved by hand and the background is then stamped for texture and so that it takes the wax differently than the smooth top layer. Turned maple pins between the back legs and the battens make up the hinge. Finished with a 1:4 mixture of caranuba and beeswax which I then colored - I can make a new batch for your chest if you are interested in something different.

A chest such as this would make a wonderful wedding, anniversary or baby shower gift. (The chest in the photo is an anniversary gift for my wife.) If you are interested in a piece that will be passed down to children and grandchildren this is certainly it.

As pictured the chest measures 44 inches across, 26 1/2" high and 18 inches deep. Other dimensions are available.

This chest will take about four weeks to complete from the time i receive the order although it may take longer. Please contact me before purchasing to discuss your needs and for a shipping quote.