Cashmere Cookies- Bath Fizzys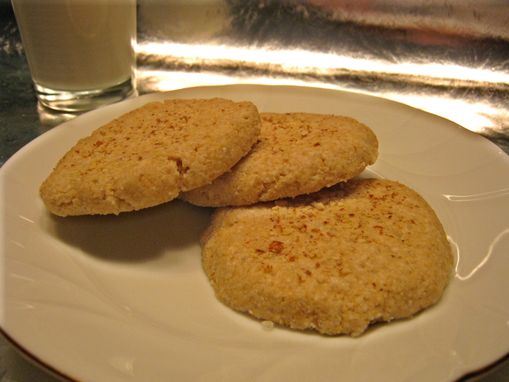 Our Cashmere Cookies Bath Fizzys (bomb) have an amazing Oatmeal Honey scent that will make you think someone has been baking all day. We fill these HIGHLY MOISTURIZING bath cookies with gluten-free oatmeal, honey, milk and skin loving coconut oil and shea butter. Simply fill your tub and drop in half to one cookie, depending on your tub size. Plan on soaking for at least 20 minutes in order for your skin to luxuriate in the oils. No FD&C dyes.

Cashmere Cookies come packaged with five (5) cookies that can be used for 5-10 baths, depending on the size of your tub and your preference. Rewrap the unused portion and store in a dry area. We recommend that you open the "cookies" over your tub as there will likely be some "crumbs" in the packaging.

Our products are always paraben, phthalate, SLS and SLES free. In addition, these "cookies" are gluten free. MADE IN THE USA.

Ingredients: Sodium Bicarbonate (Baking Soda), Magnesium Sulfate (Epsom Salt), Citric Acid, Zea Mays (Corn) Starch, Gluten Free Avnea Satica (Oat) Kernal Meal, Honey, Whole Dry Milk, Butyrospermum Parkii (Shea Butter) Fruit, Cocos Nucifera (Coconut) Oil, Kaolin Clay, Mica (Skin-Safe Mineral Colorant), Almonds, Fragrance

WARNING: SOME INDIVIDUALS WITH NUT ALLERGIES MAY HAVE A REACTION TO SHEA BUTTER. CONTAINS NUTS, NOT RECOMMENDED FOR THOSE WITH NUT ALLERGIES. NOT INTENDED FOR FACIAL USE. NOT EDIBLE. SUPERVISE CHILDREN TO ENSURE THEY DO NOT INGEST. DO NOT STORE IN A HUMID AREA. CONTACT WITH WATER OR HUMIDITY WILL CAUSE FIZZY ACTION. USE WITHIN 3 MONTHS OF PURCHASE.