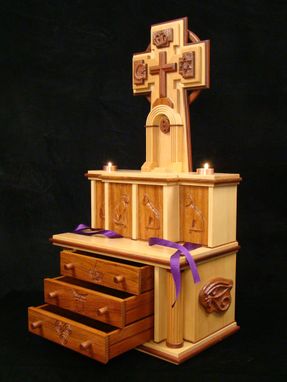 This started out as a small project for a friend who REALLY loved her 4 cats and wanted some place to put their "cremains" after long lives. It was "supposed" to be a small box for the 4.....then it got away from me ! (happily so !) This incorporates some of the "modern" religious symbolism of my friend's spiritual process, and some from her husbands....and a mix for both of them.
There are: Celtic cross, Christian cross, Star of David, Crescent Moon and Star of Islam, Ohm, Yin-Yang, Bastet (Egyptian Cat Goddess), Eye of Horus on either side of the drawer base, and on the drawers: Shinto Gate of Peace, Celtic Triskelion, and the Buddhist Lotus.
Body of the project is sugar pine with Jatoba (Brazilian cherry) for the carved aspects.
The "cremains" repositories have rare earth magnets on the backs, with corresponding magnets inside the back panels. The long edges of the drawer fronts are beveled as are the drawer case edges. As the drawer goes in, the magnets attract and the drawers are locked in place.