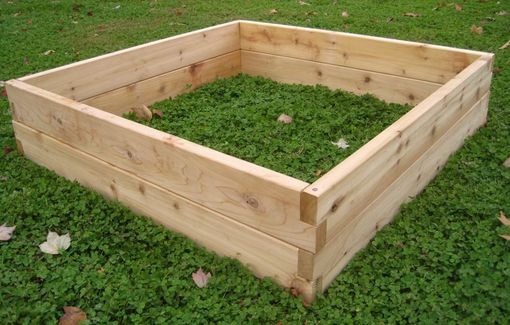 These easy-to-assemble raised bed kits are perfect for vegetable or flower beds and will add complimentary beauty to your landscaping and will last many years.

See what previous customers have to say.

Benefits of using Raised Garden Beds:

Raised beds warm up faster and drain better than flat ground gardens
provide astounding protection against floods
are much easier to weed
provide your plants with a nice loose, 'friable' earth by creating a visible barrier against the intrusion of soil-compacting feet

Unlike most planters, the simple design of my kits allows wood to shrink and swell for improved durability in wet conditions. Corner hardware such as screws or nails eventually loosen as wood ages. These raised beds assemble with rust-free, aluminum rods set securely through the ends of each board. So after years of exposure, the planter won't fall apart, and yet can be disassembled if needed.

Features & Benefits

Strong and functional
Can not pull apart as may happen with beds that are nailed or screwed together.
Stack them higher, and save your back

It takes less than five minutes to assemble these raised beds. Only a hammer is required. Raised beds can be placed directly on sod, lawn, or even a weedy patch.

Cedar wood has remarkable dimensional stability. This means the wood doesn't change its size or dimension despite weather, humidity or temperature conditions. Cedar is a light, porous type of wood. This gives it a high insulating value perfect for retaining soil warmth. Cedar stands up to moisture, resisting rot and resisting insect damage better than other woods.
Dimensions: 2'x4', 4'x4', 2'x8', 4'x8'