Celebration Dancer Wooden Figure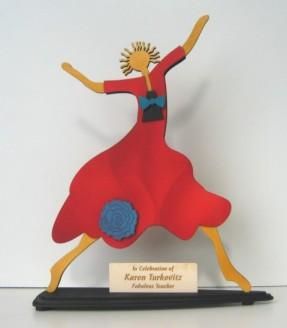 This particular piece was made for display in a library to honor a woman who contributed a lot of herself to her community. This piece was actually made as a two sided figure since it was going in a location where it would be viewed from both sides. Any of our figures can be made into an award, a gift, a memorial, or a fund raising item by the simple addition of a laser etched sign. While this piece was designed to sit on the top of a bookshelf, we can make something similar to be displayed on the wall. Any of our pieces can be made in most any size - ranging from a few inches to a few feet tall. Our standard sizes for figures are around 15" tall, and around 29" tall, but we're very flexible! As with all our pieces, we can work with you on colors for the figure's clothing, and on the skin tone. We do skin tones of honey - as shown - , black, or brown.
Dimensions: Most any size from 6 inches to 6 feet, or larger! The piece shown is about 18" tall.