Celestite Ring, Raw Celestite With Black & Silver Accents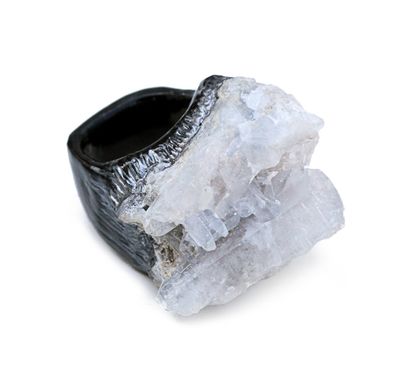 A Celestite Ring, on a clay base coated in a glossy black lacquer with silver accents. Fits true to ring size. Each ring is custom made with a one of a kind celestite stone.

I have a love affair with celestite. It is one of the most beauitful stones I have ever laid my eyes on. Each piece is as rare as it is unique, and there's just something about the name... it's otherworldly.

The clay I use is 100% shatter resistant and one of the most durable materials you can mold with. It's epoxy-based, which means no baking or kilns are used. We're not talking fragile stuff here, this base is built to last a lifetme!

Celestite is one of the most powerful gemstones. It can balance the male/female energy within the body as well as balancing the world's energy around you. It is said to bring rational thought, and can work well in high-stress mental activities.

Some people keep a celestite stone in the bedroom to enhance dreams and meditative awareness.

Please allow up to one week for me to create your custom ring. It will ship within five business days of placing your order.

**Note that each celestite stone will vary slightly in shape, as all stones are natural.