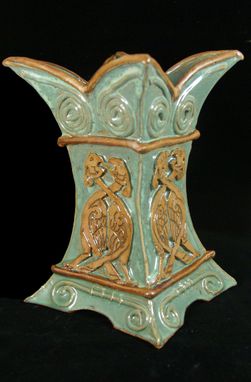 This vase was inspired by an early Celtic illuminated letter. I saw a black and white drawing of an illuminated "I" with whorls on its base and top and though that this would make an interesting vase. For the vase design, I replaced the center panel of the" I" with a par of intertwined Celtic birds.

This vase is hand built from stoneware slabs, with applied sprigs for decoration. The birds are hand carved and there are a pair of birds on each of the four faces. The vase is then glazed in turquoise and then some areas of the glaze are scraped away and a brown slip is applied.

The pieces is the fired for 12 hours in a gas kiln for the final finishing.
Dimensions: 11.25" high and approximately 8.25" square