Celtic Trinity Necklace. Celtic Knot. Triquetra.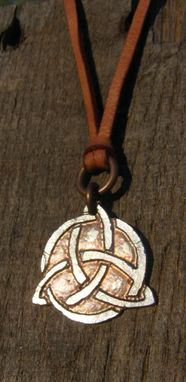 You won't find another pendant like this on the world wide webs. This was originally a U.S. Quarter that has been torched, hammered, cut, filed, and dropped into a jar of acid. Etching the coin reveals its copper core, resulting in a striking display.

What is special about this process is that the coin can be prepared to perfection, but once it goes into the acid I have no control over it. This adds an element of unpredictability to my work, which means that every piece is truly unique.

A great deal of time, energy, and love (and occasionally some frustration and cursing) goes into the crafting of each and every pendant.
Dimensions: Approximately:
-Pendant Diameter: 1.25 " (3cm)
-Cord Length: 18" (46cm)
-Handmade Copper Clasp & Findings