Ceramic Pumpkin Leaf Platter With 2 Dip Dishes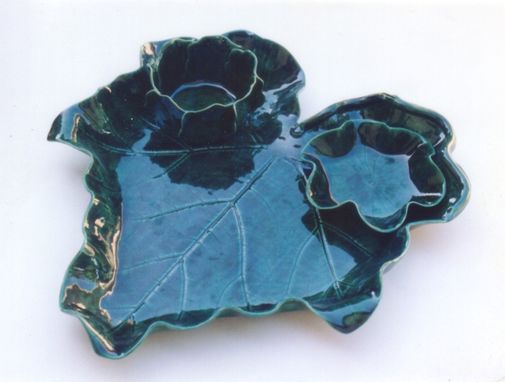 I have created a ceramic platter using the impression of a large pumpkin leaf. One of the dip dished was made using the impression of a small lotus water lily pad and the second one was created from impressions of geranium leaves.

All three of these pieces started out as a thin, flat slab of fine china grade ceramic clay. First the leaf impressions were rolled into the clay, then the leaf outline was cut out. I next hand modeled the various designs turning up the edges and propping them up with small balls of clay until the clay stiffened up.

After the first kiln firing was accomplished the damp clay had been turned into a ceramic stage called bisque.

Four coats of hand brushed glaze were then applied and a second kiln firing was run.

This platter can be used to serve chips and dips or vegetables and sauces.

This is a fine example of the Art Deco or Majolica style of ceramic ware.

The platter is 14 inches X 16 inches X 2 inches.
Made in Saint Petersburg, FL
All of our products are handmade
by expert makers.