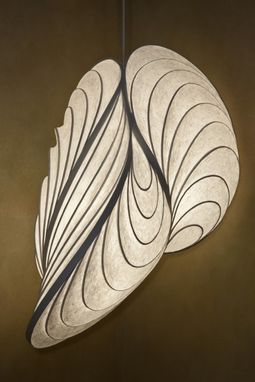 The "Cetaceous" pictured in the first photo is a suspended light sculpture of laminated paper and wood, 40"H x22"W x24"D.

Like all of my works that I've created over the past 47 years, this piece is a signed, numbered, one-of-a-kind work of art that has the added benefit of having a function as creative lighting. Whether installed in a bedroom, dining room, living room or wherever in your home you wish to add the beauty of artistic lighting, this piece or one like it will bring years of pleasure to those who live with it and others who view it.

I created my first "Cetaceous" light sculpture in 1979 and gave this particular style its name due to the ocean-like character of its asymmetrical design reminding me of the playfulness of cetaceans, sea-going mammals like whales and dolphins. Since that time, when I won a first place award for that original piece at the Pacifica Awards design competition in Los Angeles, the "Cetaceous" style has become one of the most sought after of my many designs.

Additional photos on this site will show the relatively unlimited possibilities of this design in other pieces I've made over the ensuing years. There never have been nor will ever be two alike.

Thus, this is one of the many designs I create that can be custom ordered to suit the specifications of your particular space.



Dimensions: 40"H x22"W x24"D