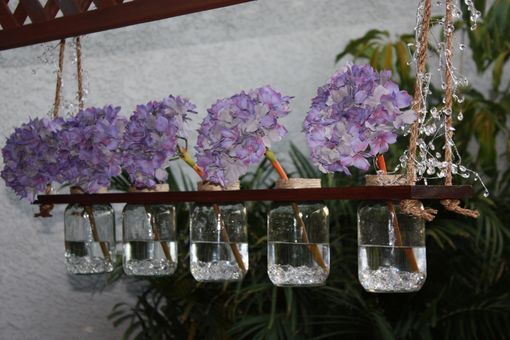 This Mason Jar Hanger includes 5 Quart sized Smooth Canning Jars with lids, and the wood base holder which hangs by a rope with o-rings for easy hanging. The great thing about the unique design is that you can display flowers, candles (floating in water or on sand, rocks), the possibilities are endless for you to give the hanger your personal touch for your front porch, patio, or special occasion.

Note: I have included the canning lids wrapped in hemp rope (which are removable) to protect your decorations inside. When not in use, they will protect your decorations. I sometimes put sand, shells, or rocks in the jars and without the lids on, they will fill up with water from the rain. So when I am done using them, the lids go back on to keep everything nice.

What is Included and Dimensions:

Jars - 7" Tall by 4" Wide, Reg Mouth Lid 2 3/4" Wide, wrapped in hemp rope
Wood Holder - 1" x 6 1/4" x 40 3/4"
Rope - From bottom of O-Ring to top of board is 16"
O-Rings - 1 1/2" Steel Rings

The wood used to make this specific hanger is pine, with a red mahogany stain, and has been varnished to repel water if hung outside and is UV resistant.
Made in El Cajon, CA - California
All of our products are handmade
by expert makers.