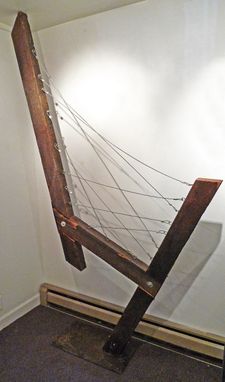 -Chaos-

This piece was made in a sculpture class. The idea for the project was to create something that had a significant impact on your life. Here's my story....

Back in 2012, Hurricane Sandy came through Lancaster Pa. Days of raining, a lot of rain! The town that I lived in was called Manheim. Manheim was flooded, the national guards we here rescuing people from there homes on boats, and hundreds of homes got flooded out. Mine was one of them. I was living in the basement of my fathers house at the time. I used this as my studio where I had my drafting table, computer, college books and so forth; pretty much all of my possessions. There was a reservoir next to us on the neighbors property. Well that reservoir eventually filled up with water, thousands of gallons to which after waiting four days because there was only so much the fire departments could do with hundreds of people having the same issue; they finally got to our house to which they hook up the pumps and shot the water down the road from the top of a fire truck, almost as if the were shooting water to put out a fire. I still remember to this day after two days of none stop raining, I got up in the middle of the night to use the bathroom to find myself walking in puddles of water. I got my father up and we went down with two shop vacs to start sucking up the puddles of water. We started to realize, the water is now lightly shooting through the foundation block walls. We then started to get the key things out that were the most valuable. Well literally, ten to twenty minutes of hustling up and down the stairs, the water started pouring in! We couldn't keep up with it. The water pump went out and then there was about a foot of water in the basement. Realizing that we can't do anymore because of the receptacles being right above the water line - we did what we could. I didn't sleep the next few days; I spent them sitting on the top steps looking down into once was my palace for creating and sleeping, with five and a half feet of green dirty water covering a couch and my possessions floating around.

So this is the state of mind I was in at the time. The galvanized wires are criss crossing and going different ways which is how I felt and how I was thinking.

-Choas- is made from antique barn wood, galvanized wire, and metal.
All of our products are handmade
by expert makers.