Cherry Blossoms - Decorative Mural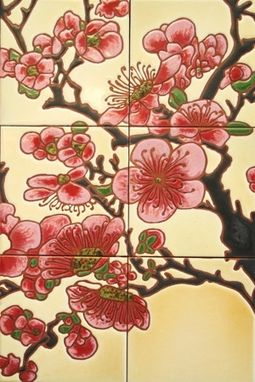 Cherry Blossoms Glazed Tile Mural – 12 x 18" loose tiles, ready for your installation.
6 total tiles

This beautiful handmade glazed Italian tile mural can be set for kitchen, bath, garden, pond or any architectural focal point.

In fact, as it would be stunning anywhere, it may be difficult to choose just where to place these gorgeous tiles.

Loftin TileWorks specializes in custom handmade artisan tile murals and single accent tile pieces. All tiles are Kiln fired to over 1800 degrees They are water-proof, fade-proof and can withstand all weather. Our tiles and murals can be framed for indoor or outdoor use, as well.

Shipping is included within the Continental United States. However, installation is not included.
Please inquire for rates if you require shipment elsewhere.