Cherry Entertainment Center And Wall Unit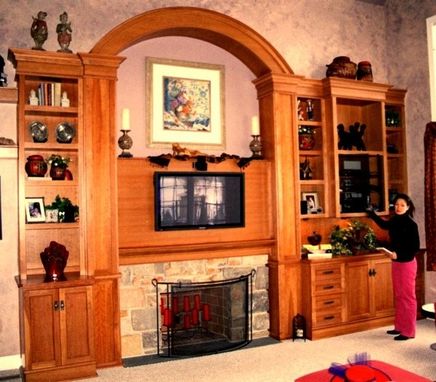 This project started to be a cover up for the huge amount of stone used in the fireplace surround. As it evolved more uses were given to the project. Eventually the entire wall was utilized for plasma screen, TV, audio/video components, CD and DVD storage and even storage for childrens games and toys.

The fourteen foot high wall could, of course, handle all the cabinets. The problem was to not make it look like just a wall of cabinets but to add interest and variety. I liked the look of some cabinets being deeper than the rest, some with glass and some with doors. The unifying element is the huge arch on two columns. This connects both sides of the fireplace.

One problem was that the top of the arch had to be finished because it could be seen as you came down the staircase into the living room.

Cherry was used and color matched to the kitchen.
Dimensions: Twelve feet high and fifteen feet long.