Mahogany Hall Table Inspired By Greene And Greene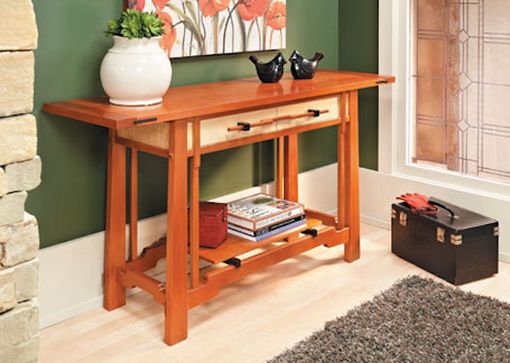 Greene & Greene-Style Hall Table

The classic design of this project, will make a beautiful focal point in any room.

Charles and Henry Greene were two of the most renowned designers of the Craftsman period. This table recalls their style with its subtle curves, offset surfaces, exposed joinery, and contrasting wenge and maple accents.

The impression is distinctly Asian. The pieces fit together almost like a jigsaw puzzle making it fun to look at. The construction is firmly rooted in the Craftsman tradition.

Dimensions:
16 7/8"D x 60"W x 30 1/16"H

Handcrafted in my wood shop located in Okeechobee Florida. I hand pick each board for the best look and hand craft each piece. I have been building hand made furniture for over 20 years and enjoy the craftsmanship in the arts and crafts style projects.

Please allow 3 to 4 weeks for delivery as I hand craft each piece to order.