Interior Door In Solid Parqueted Cherry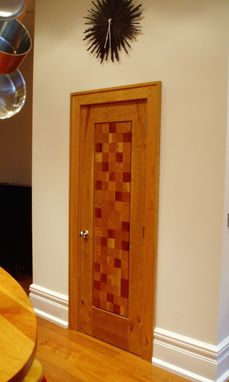 A solid cherry interior door, with a 1 1/2' thick solid cherry parquet door panel. The variegation of the cherry blocks is beautifully decorative.
I have always enjoyed the end cuts, and knotty bits (ha), that usually are edited out of pieces when trying to pick material for a surface, gable, or drawer face. Putting them together in a pattern that is pleasing is not as straightforward as one would think... a little bit of checkerboarding, some juxtaposing of colours, some pieces similar adjacent to each other to reinforce a sense of randomness, anticipating the change in colour due to exposure to light...eventually it comes together...not so much as an epiphany...more forged.
This door is finished in precatalyzed lacquer.