Cherry Stained Pine Hutch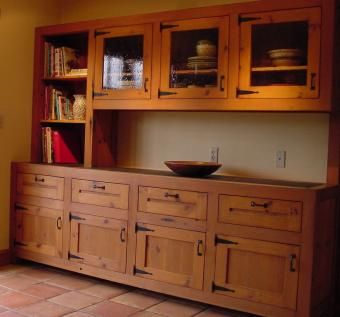 Rescued Resources rescues natural materials from places where stuff ends its typical useful life and then uses them to furnish your future.

This kitchen hutch was hand crafted from solid pine that was rescued from several old factories that were partially demolished. The old timbers were resawn and restored to their natural beauty and still display distress marks from their previous life. This hutch was custom sized to fit the exact intended location with the storage layout to suit the customer's intended use. This piece was stained a light cherry with a wax finish. The counter top was finished with slate tile.
Dimensions: 98 3/4" wide, 22" deep, 80" high