Cherry Wood And Bronze Coffee Table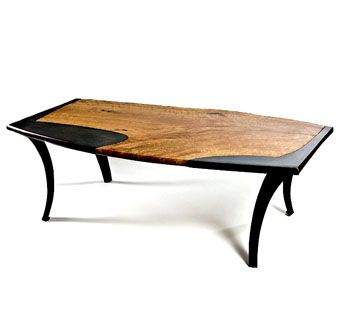 One-of-a-kind

The table is made from a large slab of cherry wood mounted in a bronze superstructure fabricated from cast and sheet components.

In fabrication, bronze sheet and cast bronze components are tig-welded, chased and finished with seamless joints. The cherry wood slab is attached to the superstructure in such a way as to allow for natural expansion and contraction without compromising the wood.

The wood is finished with a hand rubbed oil and wax natural finish. The bronze components are finished with an oil-rubbed antique black patina.

The design of the table was developed in response to the natural, branching configuration of the cherry wood slab. The bronze components compliment and finish the dynamic sweep of the natural wood grain, allowing the coffee table to be placed among a variety of interior settings.

Please call or email us for pricing.
Dimensions: Height: 19.5" Table top: 29" x 32"