Cherry Wood Book Matched Cutting Board/Serving Tray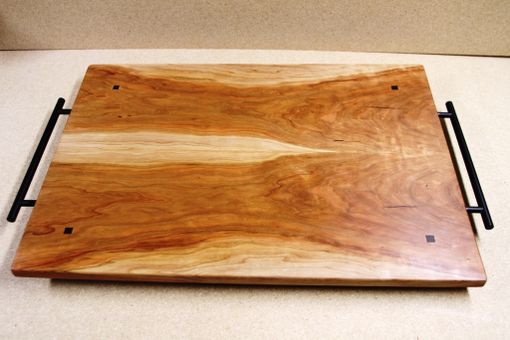 Beautiful handmade cherry book matched cutting board or serving tray with walnut accents. To create the amazing patterns of light and dark grains, I used some of the live edge (wavy wood close to the bark of the tree). Metal handles are added for a modern/contemporary look and also makes it much easier to pick up the board when needed.

I screw in rubber feet to the bottoms of all my boards to keep them from slipping and to block any moisture from the counter top.
All of my boards are constructed with food safe water resistant glue. The finish on all of my boards is a food safe combination of mineral oil and bees wax.


Dimensions: Size: 16 ¾ x 23 ¾ x ¾ (1 inch total thickness with rubber feet). Handles make the overall width 26 ¼.