'Chestnut Kruger' Canoe Kit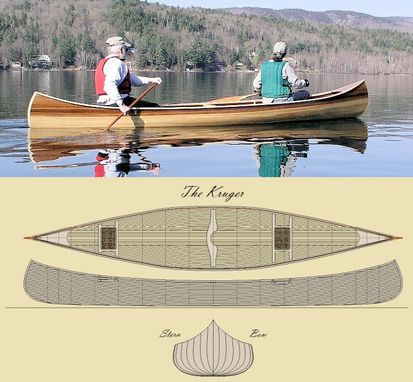 Roger MacGregor, author of "When the Chestnut Was in Flower" took the lines for the Chestnut Kruger and the Chestnut Ogilvy. The Kruger was a slim cruising canoe created by the Chestnut Canoe Co. This is the Newfound Woodworks' version of the Chestnut Kruger. It was launched on Sunday morning, May 11th, 2003.

Our impressions are that this canoe works well either tandem or solo. It can be paddled solo by sitting in the bow seat facing sternward. The weight is 55 lbs; it is very stable feeling if you kneel and lean your butt against the seat.
Dimensions: Length 16' Beam (BOA) 33-1/2"" Beam (BWL) 29" Weight 55 lbs. Displacement (Capacity) 450 lbs Draft (at Capacity) 3.14" Center Depth 12.66" Depth at Bow 23.26" Rocker 1.5"