Cigar Citcuit Board Fountain Pen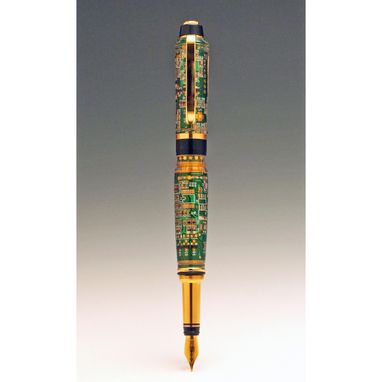 The Cigar fountain uses the single European cartridge like Peliken® or Waterman®. It also comes with a converter for bottled ink. The Cigar fountain pen is a cap style pen that twists off and twists on when posting and has a Germany medium iridium tipped steal nib. Each pen comes in a gift box with product information.
The process used in making the circuit board blank is first to glue the circuit board to a brass barrel. Place the barrels in a mold and cast with water clear polyester casting resin. I hand turn each pen and polish to a glass finish. Lastly, I assemble the pen parts to complete the pen.
For this one the main body is Green computer circuit board and the pen finish is gold plate.

Dimensions: 3/4" diameter by 5 3/4" Long