D.Y.O. Cirque Lounge Pant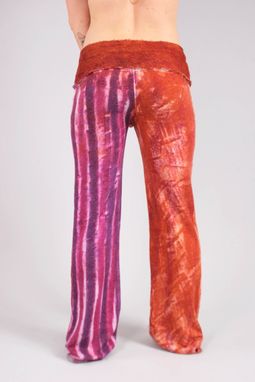 DESIGN YOUR OWN LOUNGE PANTS Yes, its true, and it's very simple.

1st- Give us 2-3 themes for the art on your pants. Don't worry, what ever you mention we will use as inspiration to create some amazing art for your pants. Previous customer theme examples include, "Bob Dillon", "Pickles", "Astrology", "Puppies", "Kanji", "Lakers". Anything is game! Just mention right in the notes section during checkout.

Your pants will be hand painted just like the beautiful pants you see above. We'll then produce and lay down the art of your choice on them:) You can even ask us to add an inside key/ID pocket. Or get really crazy and add a contrasting vintage pant back pocket.

Limited run one of a kind yoga bottoms made of an organic cotton/cotton/poly blend embellished with original art pieces.
Note: Every yoga bottom is made to order by an artist. Artistic inconsistencies make every reproduction unique and yours. No one else will have pants quite like yours.
Available in sizes:........S---------M------------L------
------------------Size:.......1-2.......4-6...........8-10..
----------------Waist:.... 24-26...27-29........30-34....
-------------Inseam:......32.......33/34.........33/34..
Model shown is 5'3" 115lbs wearing a size Small. Small goes up to 125lbs. and as low as 105lbs. Custom Inseam Technology allows you to cut to your perfect length.
Any doubts about selecting size? Leave your Height & Weight during checkout in notes section.